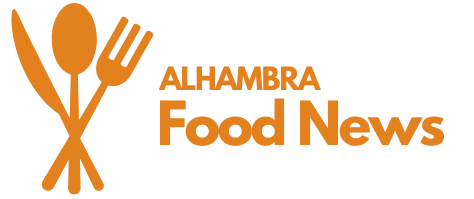 Chili Mee Grand Opening a Success
Bon Appetea Cafe Now Serving Truffle Fries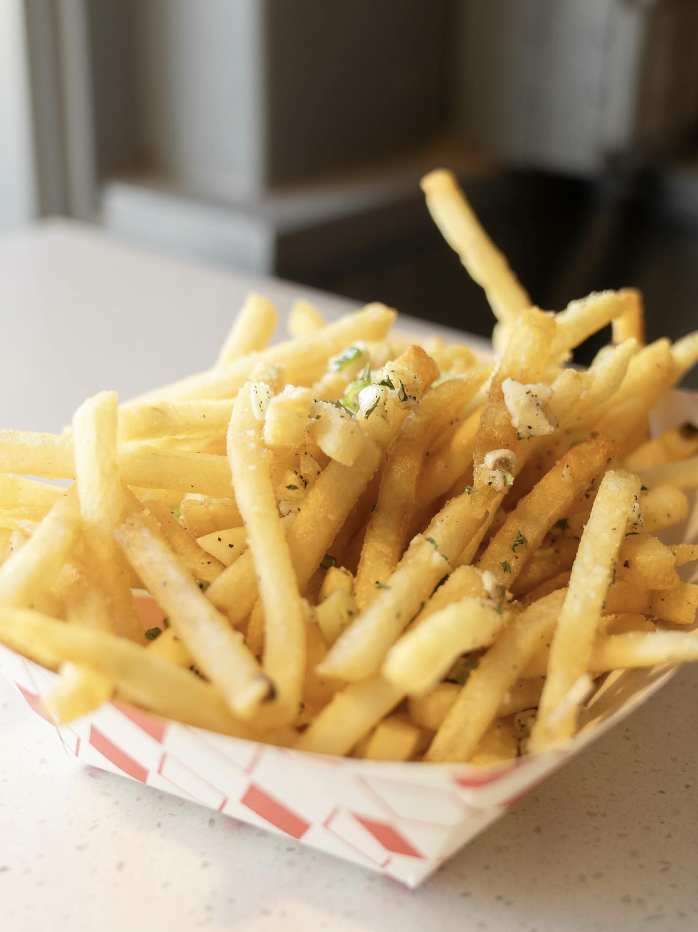 Two Alhambra Eateries Featured in the
New York Times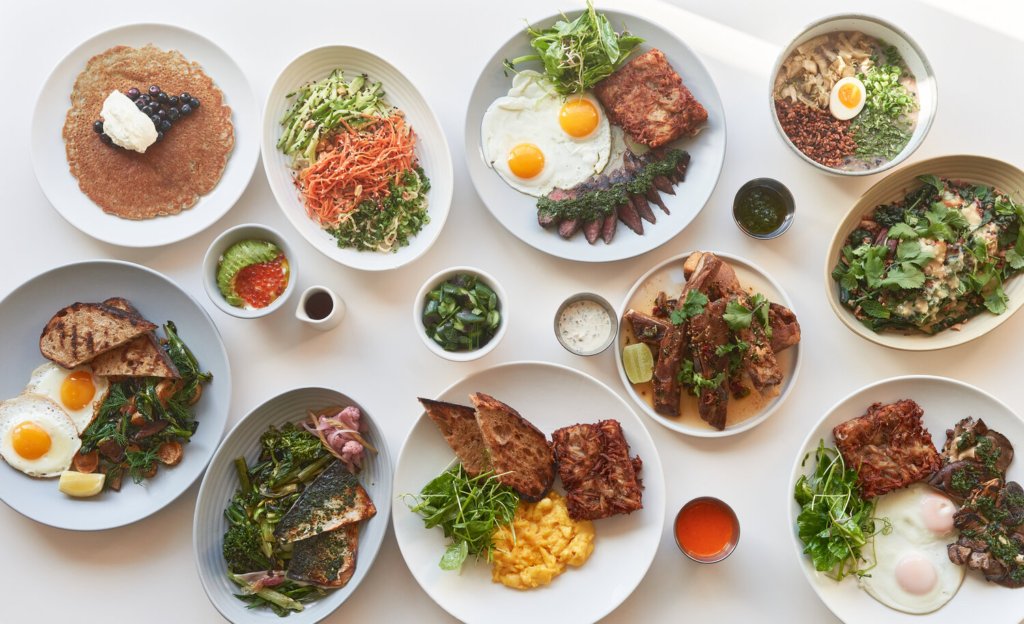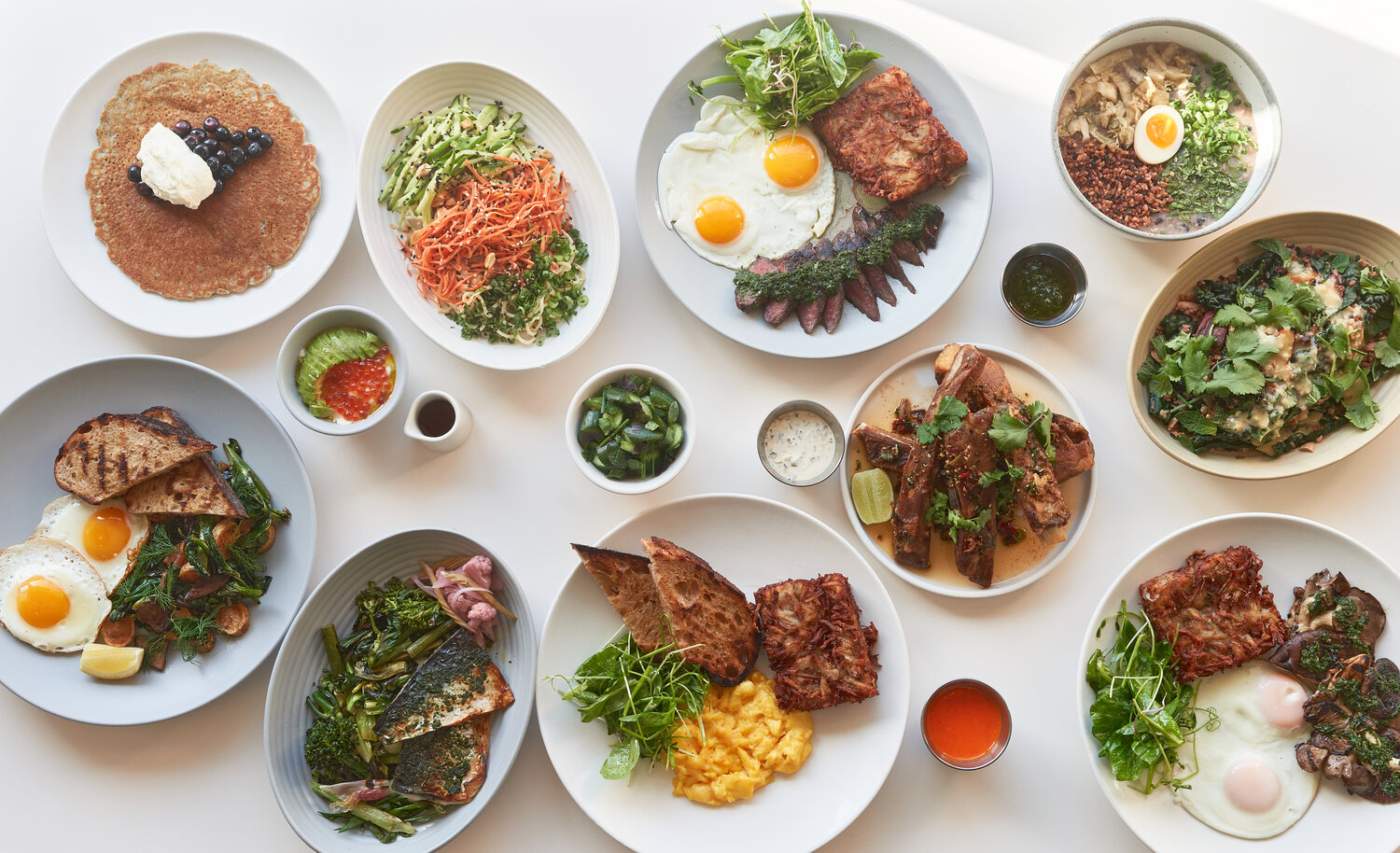 Alhambra's Little Swan Bakery Featured
on KCRW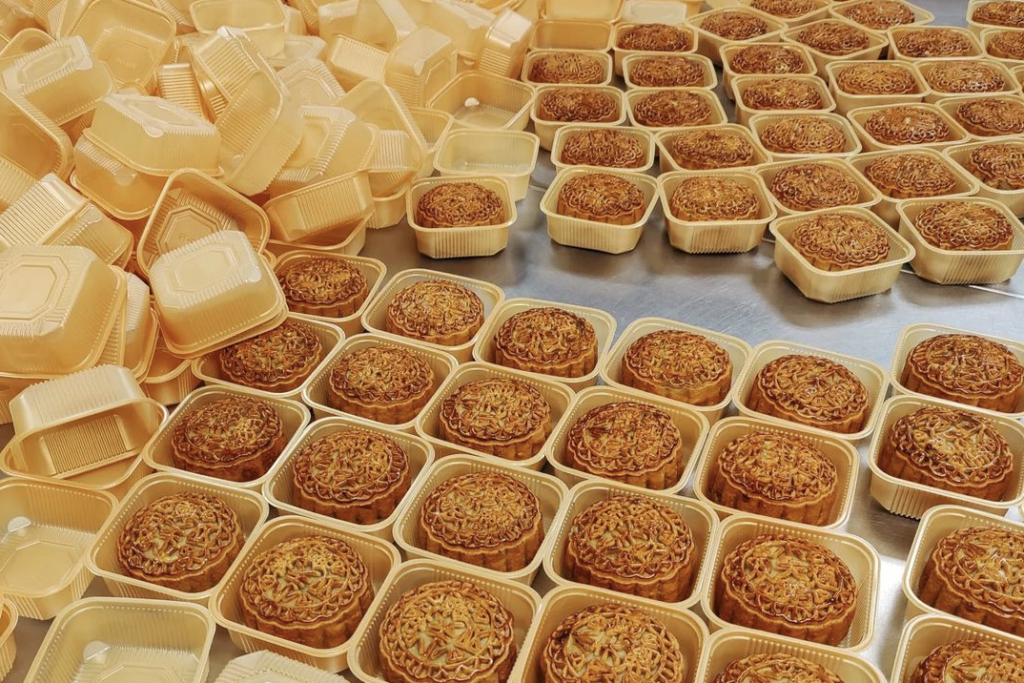 Alondra's Hot Wings is now Awsom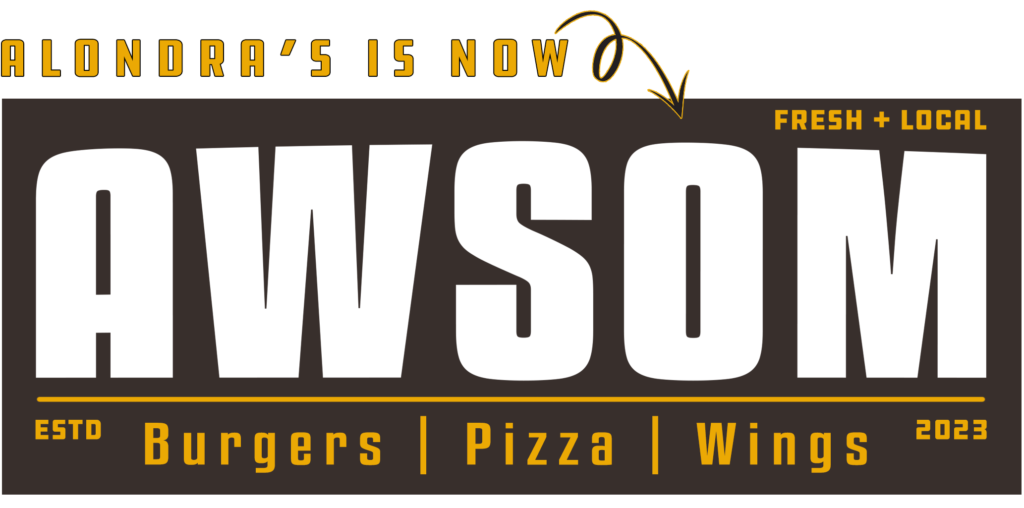 Alhambra Celebrates Burnt Belly's Grand Opening on May 16th!
See's Candies Celebrates 65 Years
on Valley Blvd.
Philly Jay's Steaks Grand Opening
January 16, 2023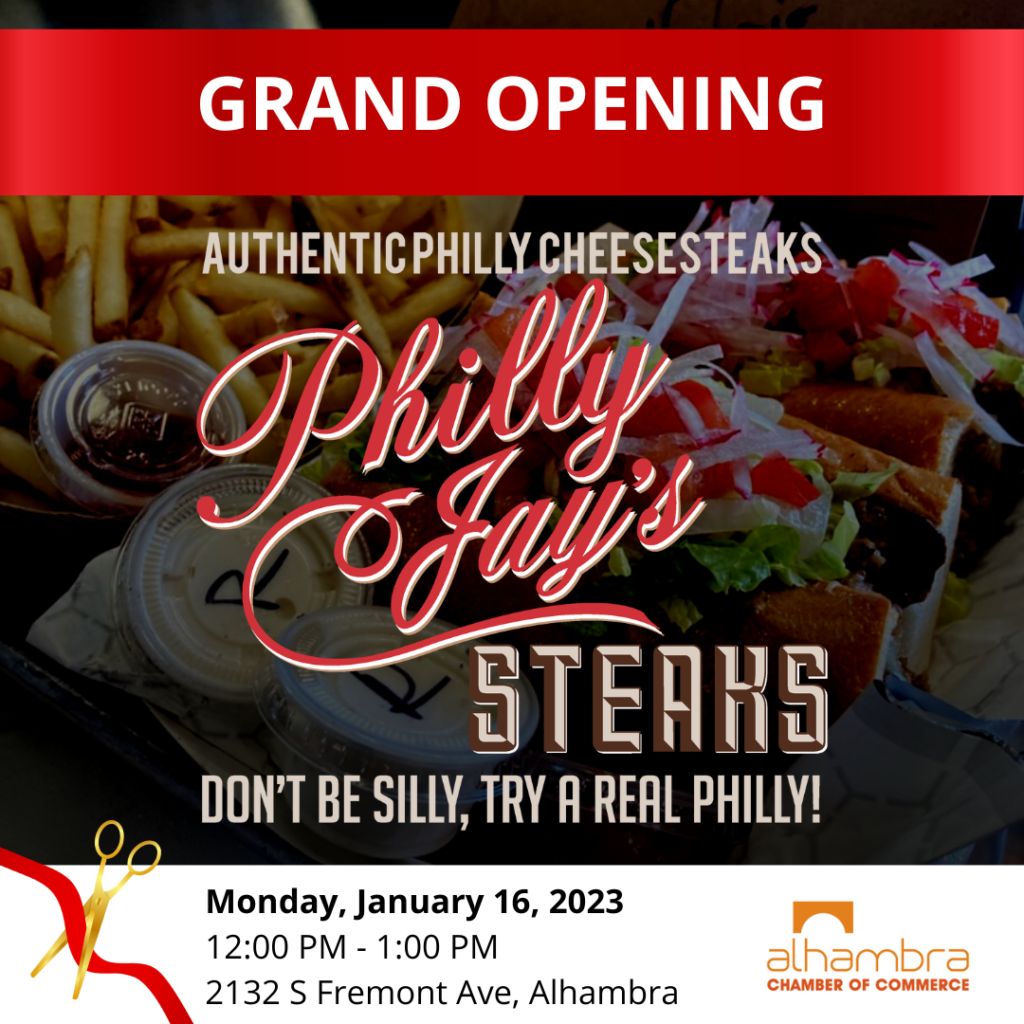 Alhambra One-Of-A-Kind Restaurant
2022 Grant Recipients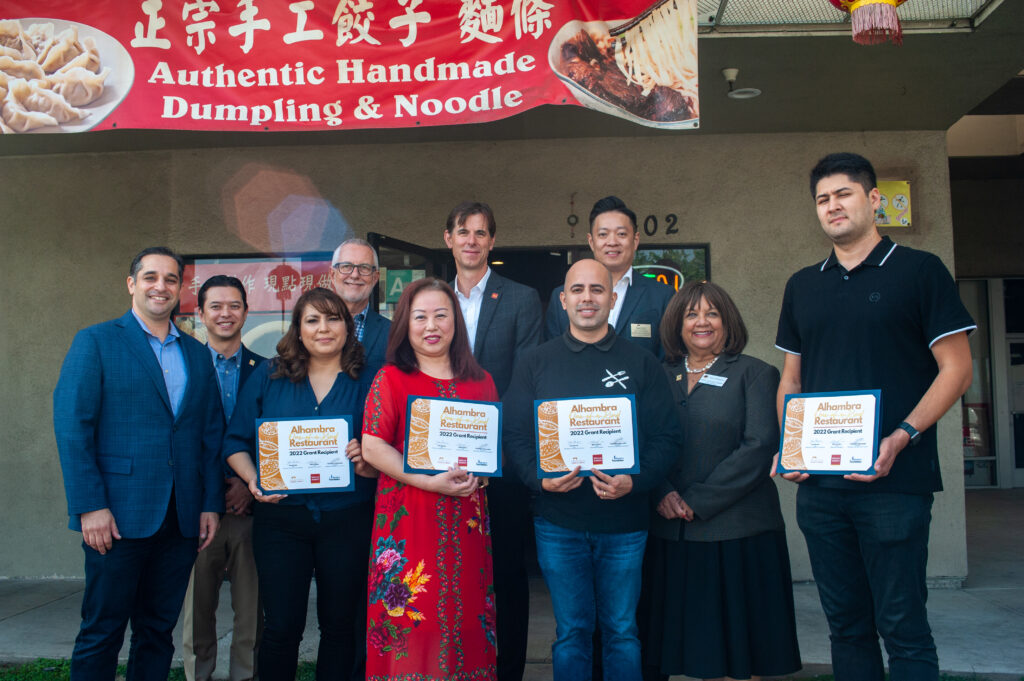 EATER LA: A Daughter Honors Her Mother's Dreams at This New SGV Vietnamese Restaurant
Alhambra Eats Discovery Weekend Passport
is here!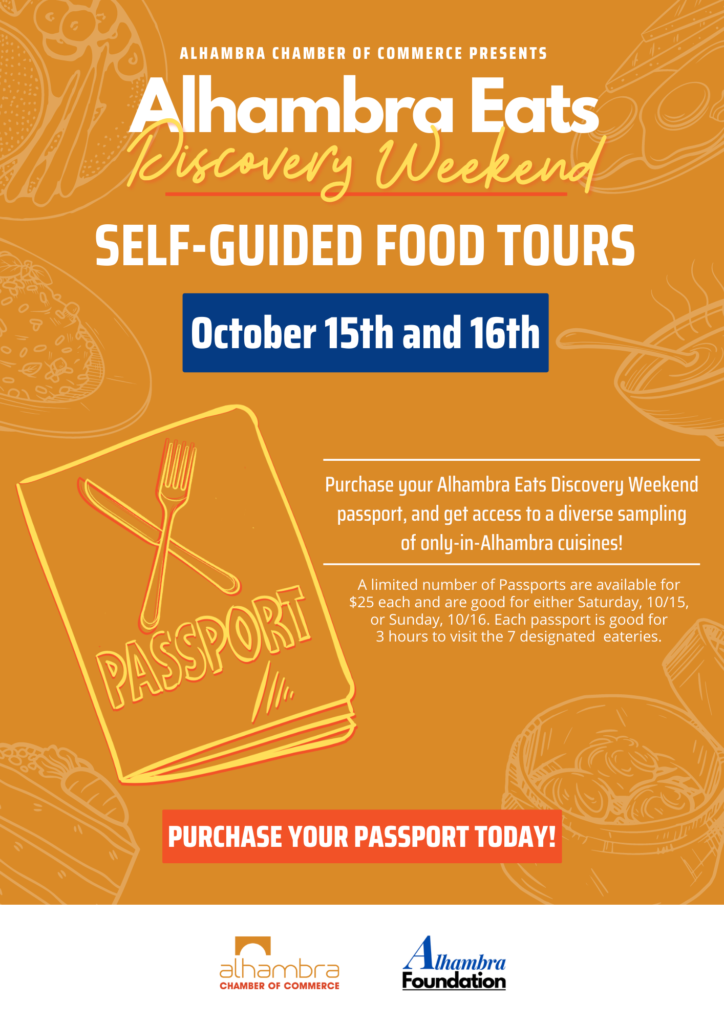 Join Pokestuf in celebrating as Alhambra's Restaurant of the Week!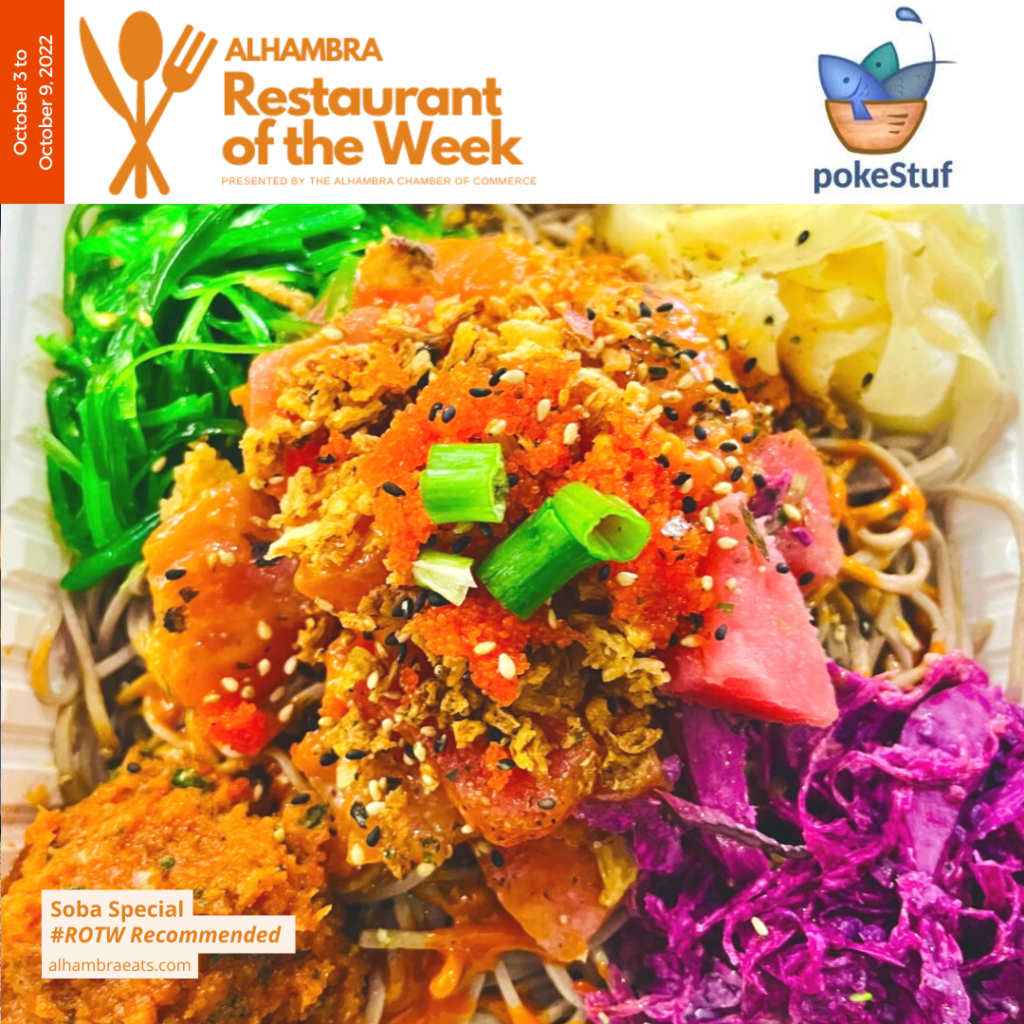 Pokestuf will be offering their Soba Special for $16, available for a limited time only! This generous bowl of Soba includes choices of dressings, three kinds of fish (Albacore, Tuna, and Salmon), toppings (Fried Onion, Masago, and Furikake), premium toppings (Garlic Coleslaw, Seaweed Salad, and Ginger), and Spicy Tuna. On top of this special menu offer, customers will also receive a FREE (1) SPAM Musubi and (1) drink coupon to claim on their next visit! These offers are valid from October 3 to 9, 2022 only.
Dehli Belly Grand Opening Celebration
September 10 to September 15, 2022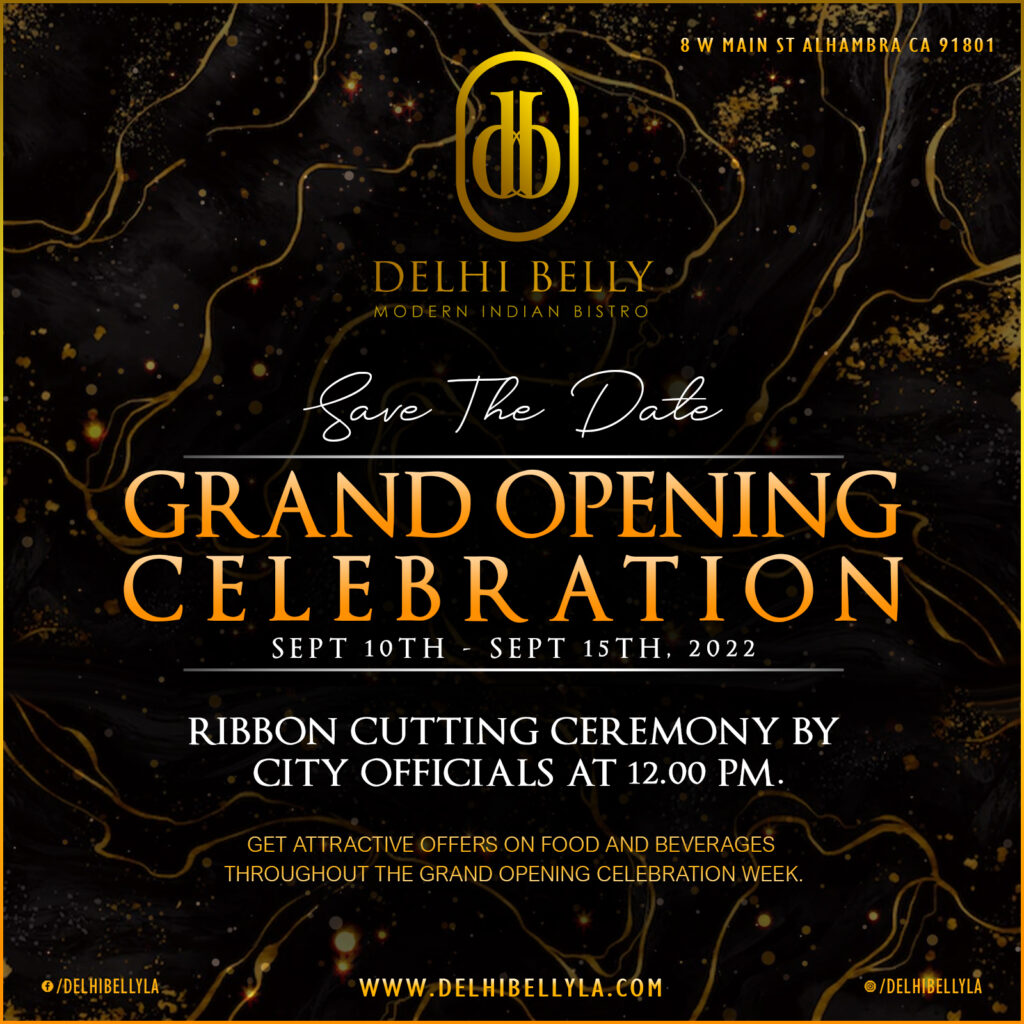 Mark your Calendars for the
Alhambra Eats Discovery Weekend!
Buy Any Cone and Get One at 50% OFF
at Baskin Robbins Alhambra!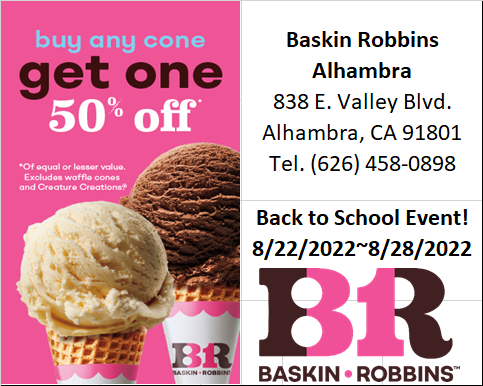 Buy 1 Pot, Get 50% Off Any Boba Drink
valid on weekdays of August 1-31, 2022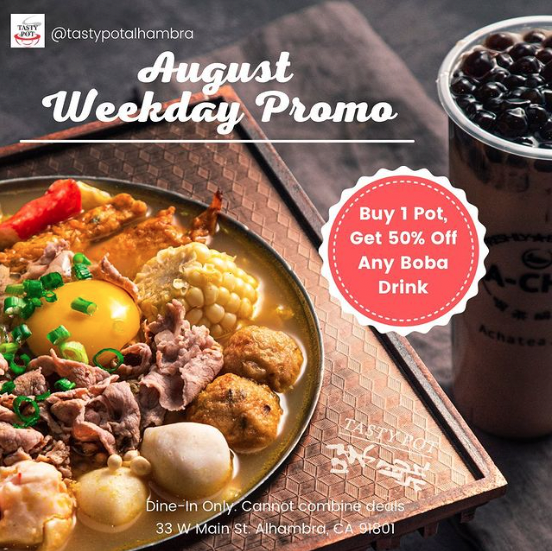 Enjoy 20% off at Tastea Alhambra
from August 1-31, 2022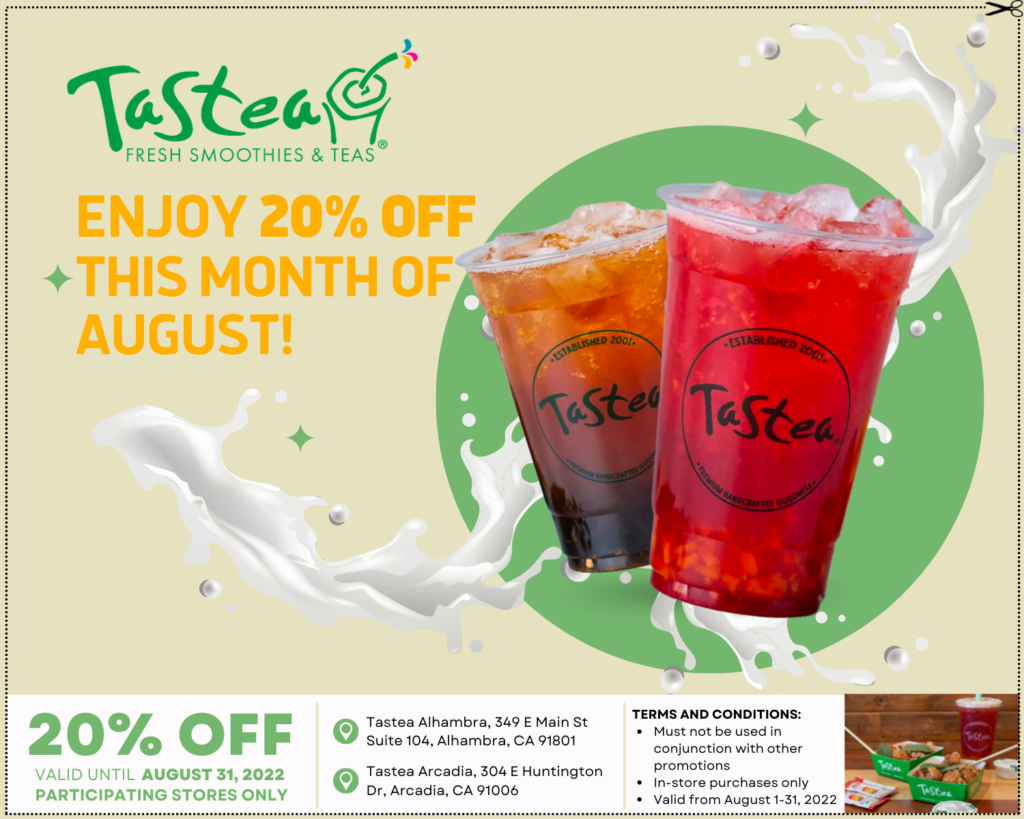 Get $5 off at Burgers & More
from August 1-31, 2022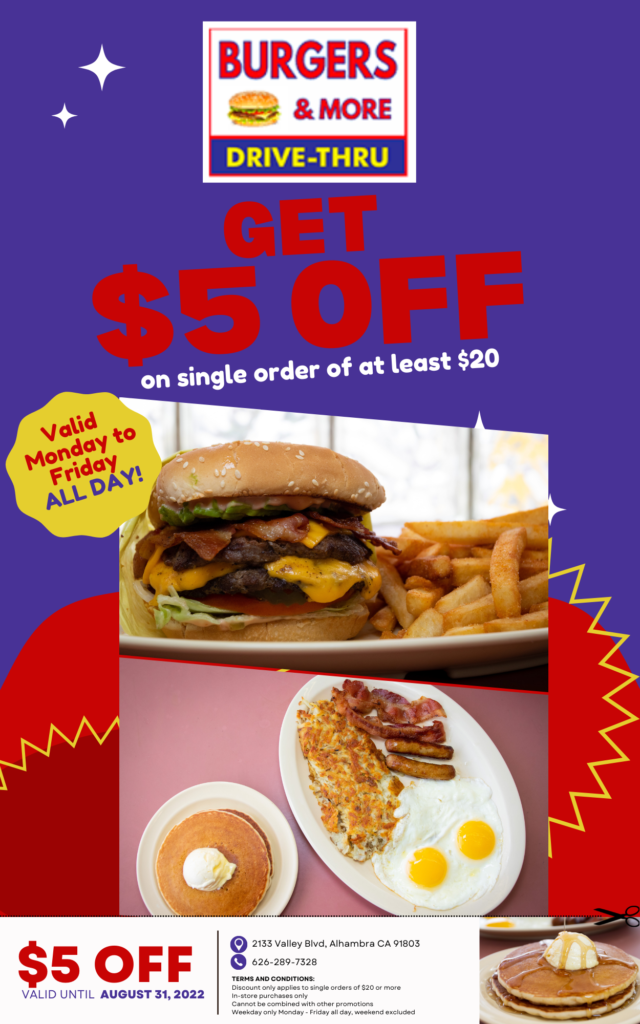 Raising Cane's Grand Opening
May 31, 2022
The City of Alhambra welcomed its very own Raising Cane's location at 1300 E Valley Blvd, Alhambra! Joining in the ribbon-cutting event was Alhambra City Mayor Jeff Maloney, Vice Mayor Adele Andrade-Stadler, Fion Lam from the office of Assemblymember Mike Fong, Councilmember Ross Maza, Alhambra Chamber CEO John Bwarie, Alhambra Chamber President Suzi Dunkel-Soto, and City of Alhambra Director of Community Development, Andrew Ho.
Hearty chicken fingers are just a taste of what Raising Cane's Alhambra has to offer! Make sure to come out and try their famous fried chicken fingers, Texas toast, and Cane's sauce.
Alhambra Chamber and Mayor Jeff Maloney Visits Recently Opened Jollibee Alhambra
May 11, 2022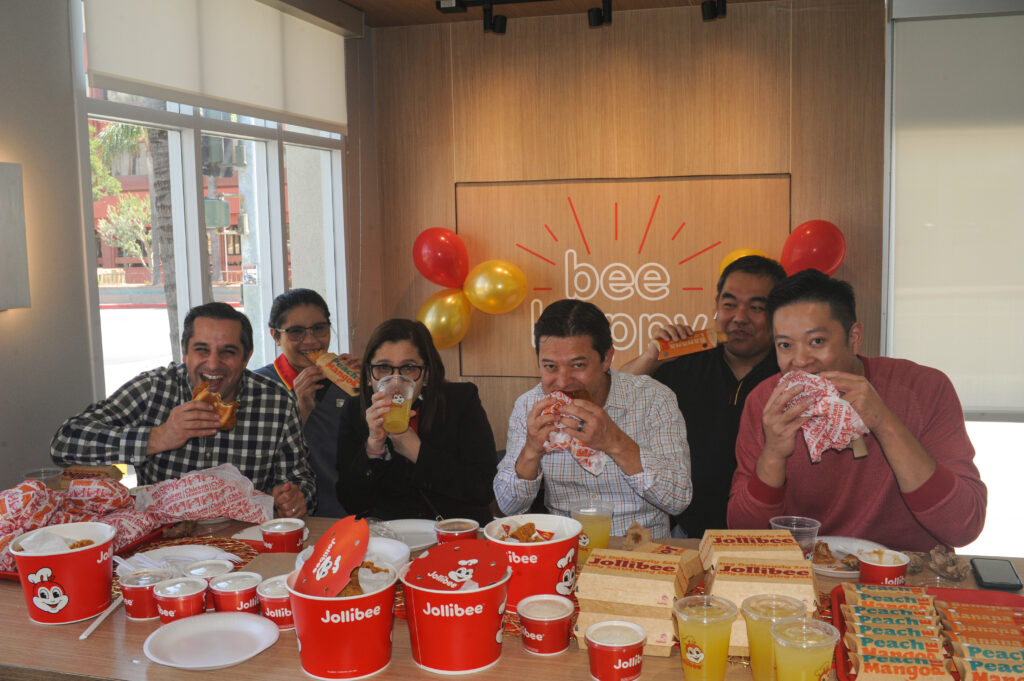 To celebrate the AAPI Heritage Month, the Chamber visited the recently opened Alhambra Jollibee with Mayor Jeff Maloney, their director of West Coast Operations Tina Lacsamana, and area manager Larry Wise. This local store features their popular Chickenjoy and chicken sandwiches, as well as more traditional Filipino fare. Jollibee also owns Coffee Bean and Tea Leaf and SmashBurger. What started as an ice cream shop in 1978 has grown into a global powerhouse.
Bagel Exchange Grand Opening
May 1, 2022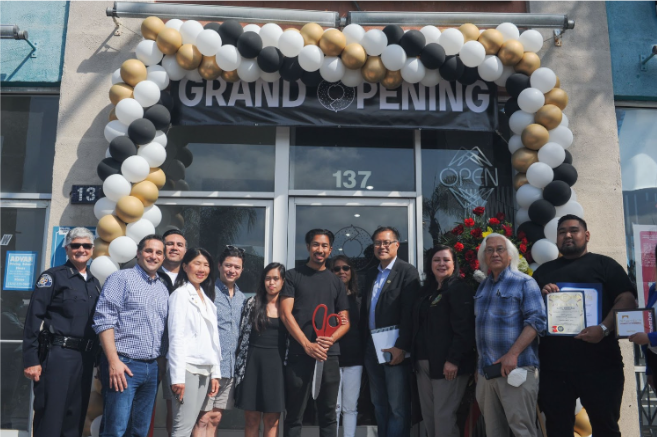 During the 626 Golden Streets: Mission to Mission on May 1, 2022, Ryan Natividad cut the ribbon to open Bagel Exchange at 137 West Main Street. Joining in the celebration which offered free bagels, live DJing, and festive balloons were Assemblyman Mike Fong, Alhambra Mayor Jeff Lee, Councilmembers Ross Maza and Katherine Lee, Alhambra Police Chief Kelley Fraser, Sandra Armenta representing Senator Susan Rubio, and Alhambra Chamber CEO John Bwarie.