Fosselman's Ice Cream
About
Fosselman's Ice Cream, a family-owned institution, has been serving up ice cream and other frozen treats in Alhambra for over a century. People from far and wide visit to try an ice cream cone or milkshake in one of the many legendary flavors, like French Vanilla Bean, Cookie Monster, Lychee, Cappuccino, Rocky Road, and Mexican Chocolate.
While Fosselman's proudly upholds its timeless recipes, it also embraces innovation with its creations. Seasonal flavors like Pumpkin, Horchata, and Eggnog joining the menu and the shop's debut into the soft-serve ice cream market in 2016 show Fosselman's commitment to keeping things fresh and exciting. The ingenuity of their offerings keeps customers coming back for more, discovering new flavors with every visit.
Fosselman's Ice Cream is an Alhambra staple, to say the least. Its reputation for excellence has attracted visitors from across Southern California and beyond, making it a must-visit destination for ice cream enthusiasts. The LA Times once called the Fosselman family "the Alhambra emperors of ice cream." Meanwhile, The Guardian claimed Fosselman's served the "best milkshake in the world" in an article titled "The 50 best things to eat in the world, and where to eat them."
Founded in 1919 by Christian Anthony Fosselman, this charming establishment shows no signs of losing steam. Over the decades, Fosselman's has continually delivered premium ice cream that stands the test of time.
Fosselman's Ice Cream is more than just another ice cream parlor—it's a legacy. See why by visiting our latest Restaurant of the Week in Alhambra next time you're craving a sweet treat! Open daily from 10 AM to 10 PM. Cash only.
Recommend Items
Cookie Monster
A much-loved flavor that blends Oreo cookies, graham crackers, and cookie dough in a luscious blue vanilla base.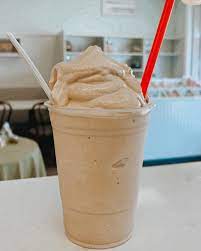 Any Milkshake
Choose your favorite flavor and make a milkshake out of it to see why people can't stop calling it the best milkshake in the world.
Contact
(626) 282-6533
www.fosselmans.com